Events Come join us at our upcoming events
Supporting Bereaved Families through Mindfulness & Sensitivity for Healthcare Professionals.
Here are the goals and objectives: To enhance the comfort level among healthcare professionals as they work with families who are experiencing the loss of a baby by receiving training in mindfulness, trauma-informed care, differential diagnosis, self-care, and more.
At the conclusion of this conference, the participants will have: Increased awareness of the Western New York Perinatal Bereavement Network and other local perinatal loss resources Improved awareness of the importance of self-care and practical tools to use in order to enhance self-care Increased understanding of how to incorporate mindfulness and sensitivity into work with families who are experiencing a perinatal loss Improved ability to differentiate between depression and grief Increased awareness of trauma-informed care principles relating to perinatal bereavement Increased awareness of community resources available to support families through their loss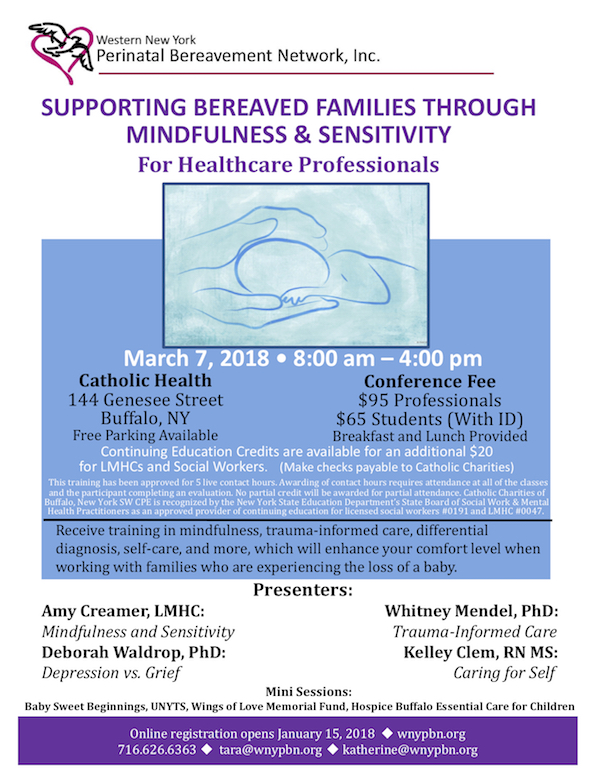 An Evening to Remember Basket Raffle
The Evening to Remember Basket Raffle boasts approximately 150 baskets yearly, as well as cash raffles, lottery ticket raffles, and side raffles of all kinds! The event provides some refreshments, but encourages attendees to bring additional snacks. All proceeds from this event will be used for the many important programs of the WNYPBN, Inc. Hosted at, St. Gabriel of Our Lady of Sorrows Roman Catholic Church in Elma N.Y.
If you would like to make a basket in memory of your loved one Please contact our event chair: Cyndee Fahey at 716-361-9330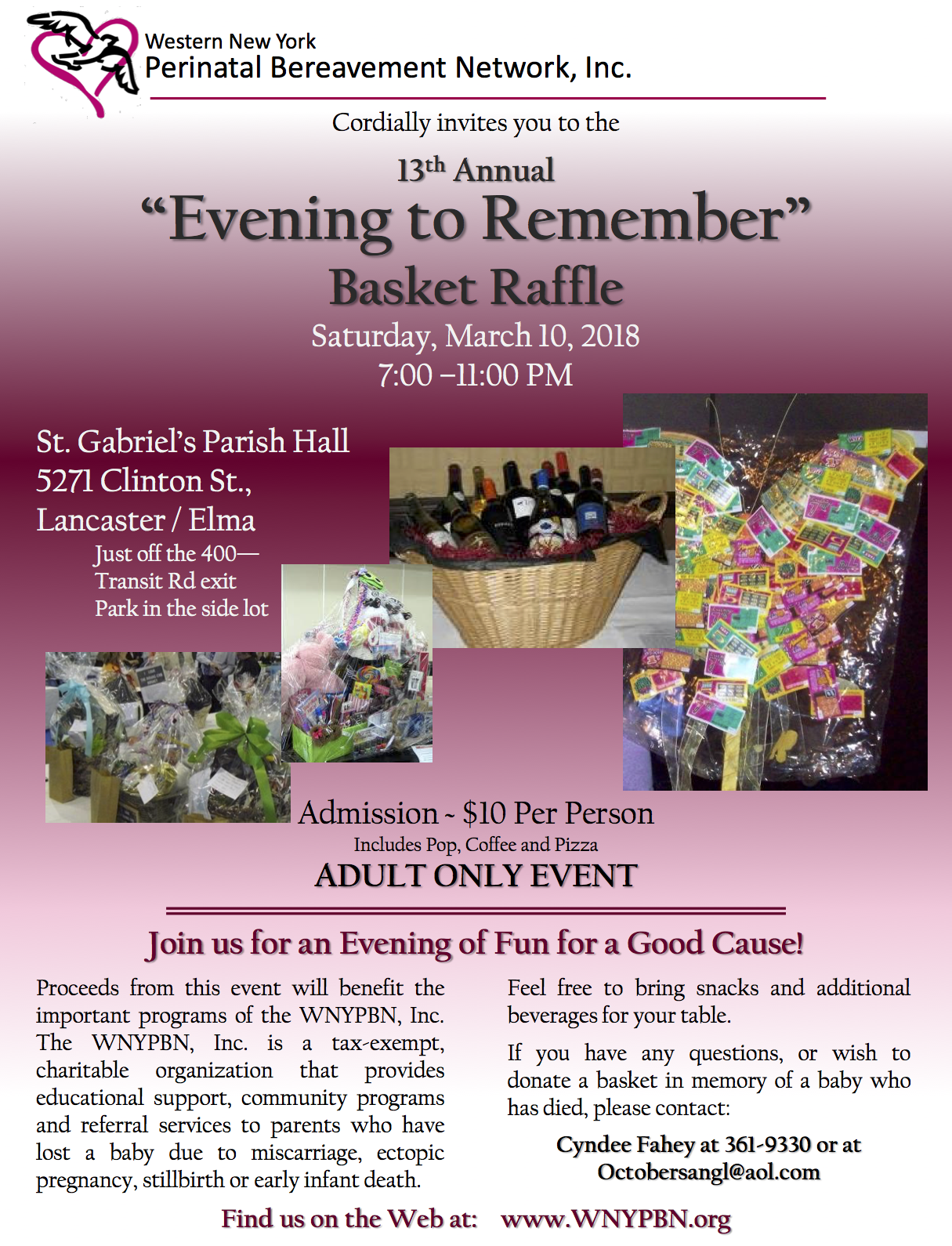 Quilt Raffle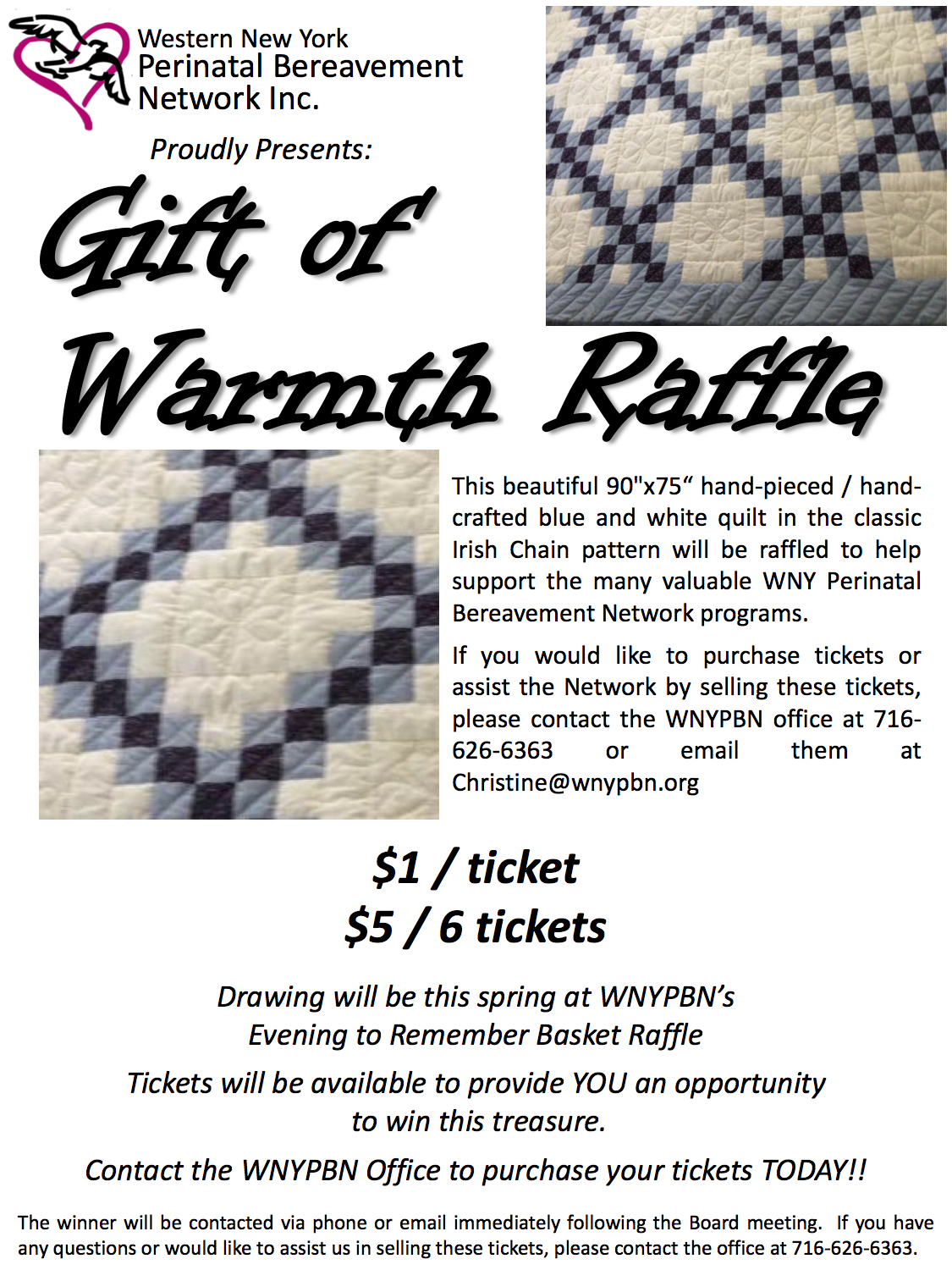 Wings of Love Parent Day Breakfast
Holidays can be exceptionally difficult after losing a baby. Mother's day and Father's day can be especially hard since our children are no longer with us to show the world that we are parents. The WNYPBN and their "Wings of Love" Memorial Fund program host a parent's day breakfast on the Saturday before Mother's day. It is a beautiful, unique and serene event to honor us as parents.
The 13th Annual Elegant Evening to Remember Gala ~ "You're An Essential Piece of the Puzzle"
The "Elegant Evening to Remember" elegant event that features an awards ceremony recognizing physicians, nurses, volunteers and organizations for their outstanding dedication to the WNYPBN and our bereaved community. Taking place in the spring, this elegant evening includes a cocktail reception, sit-down dinner, and silent and/or live auctions. All auction packages will be created in memory of babies who have died due to miscarriage, ectopic pregnancy, stillbirth or early infant death.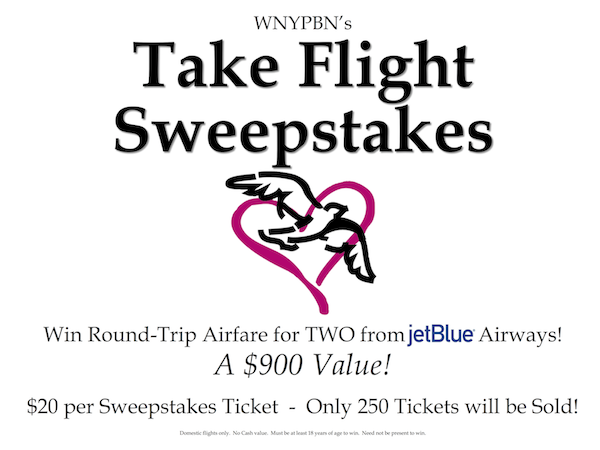 Run4Buffalo is proud to bring you Forever in My Heart!
PREGNANCY & INFANT LOSS AWARENESS DAY MEMORIAL SERVICES
October is National Pregnancy & Infant Loss Awareness Month. October 15th is generally held as Pregnancy & Infant Loss Awareness Day and commemorates babies who have died due to miscarriage, ectopic pregnancy, stillbirth or early infant death. The events take place at 6:30 PM with Candle-Lighting at exactly 7:00 PM to help create a wave of light in all time zones across the world.
The WNYPBN teams up with Amy Buckner and Gavin's Light Annual Pregnancy & Infant Loss Awareness Day Memorial Service on October 15th. This event is held in the southern tier, near Olean. Contact Amy Buckner for more information: gavinslight@yahoo.com
Grief Process
The grief process can be a long and lonely road after the death of a baby.
HIPAA form
Please fill out our HIPAA form and mail to us so that we may contact you for support.
Care Card
Phrases to support you during your grief.
Donations
Please GIVE so that others may HEAL in their Grief:
Donate